Cheers! I had the chance to check out The Bronx Brewery this past week and taste the new Bronx Banner. I also had the chance to chat with Damian Brown, Head Brewer and Co-Founder of Bronx Brewery, to learn what The Bronx Brewery and Bronx Banner were all about.
SPOTLIGHT: THE BRONX BREWERY
Diego : So why beer specifically? Why did you pick beer?

Damian : Its something I enjoy making. Its something I enjoy drinking, it brings people together. It creates a community in a way that other products don't.
Very true, we're all here, we're drinking, coming together and that's awesome! So how did you end up with Bronx Brewery?

So I started a company with a business partner and some investment money from family and friends. We sold our first keg in September 2011 and here we are!
So how did you guys end up in the Bronx?

Well, two other guys that we started the company with are both from the Bronx. Born and raised here and we came up with a concept. Realized we needed some-one who knew how to make beer. Needed someone who knew how to market and sell beer. So we all just teamed up. It was a big leap of faith. Its been amazing. I love being here. I love calling this neighborhood home. Great people here.
So right now we have this new beer, what is it called?

This is a brand new beer. Its called Bronx Banner. Yea and we're launching it on August 15th!
So I am having this for the first time?

Yea first time. We're calling it a a golden easy ale. So its a Kölsch inspired golden ale. Super easy to drink. Soft, round, very balanced beer that we designed for any one. So people that drink craft beer, people that don't drink craft beer. The idea was to create something that every one can enjoy. Particularly in this borough, we get all sorts of people in the tasting room. You want to have something that everyone would enjoy, that is universally liked, so that was kind of the inspiration.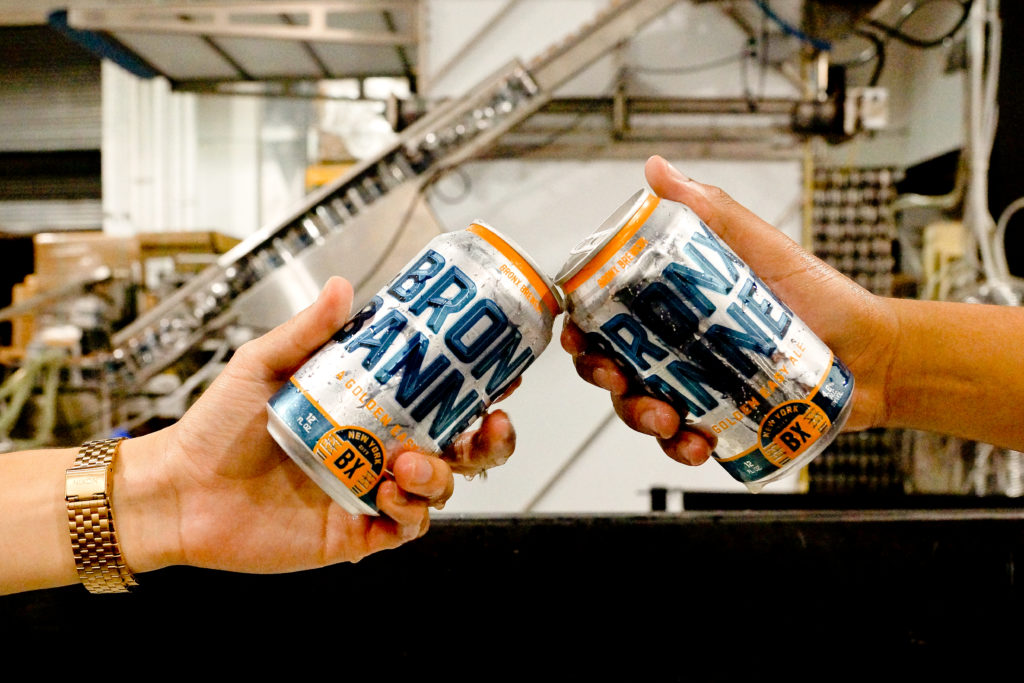 Sounds like a very accessible beer.

The other aspect of it is craft beer, a lot of people think craft beer and "ah that's awesome I want some. I've heard about it. It sounds cool," but they have a taste preference for something light. This is a way to enjoy craft beer but stay true to a lighter taste preference and a lighter taste profile.
How do you feel about the area right now?
Its great. Its been a wonderful area for us. We have great neighbors. We ask for help from them all the time and we like to think that we are building a bit of a community here. We have a bunch of regulars in the tasting room. I think for a lot of people in the neighborhood, this is the first brewery they have been to. It is exiting for us to share the beer and brewery and the process with them. We love it man, we're pumped to be here.

So what do you see for the future for Bronx Brewery right now? What do you see you guys doing next?

I would say we're going as the neighborhood goes. We are happy to see people investing in the neighborhood, opening small businesses in the neighborhood. We've partnered with a New York Restoration Project. We're excited about the work they're doing. For us I think its just a matter of continuing to make beer and run a business in a way that makes the most sense for this neighborhood.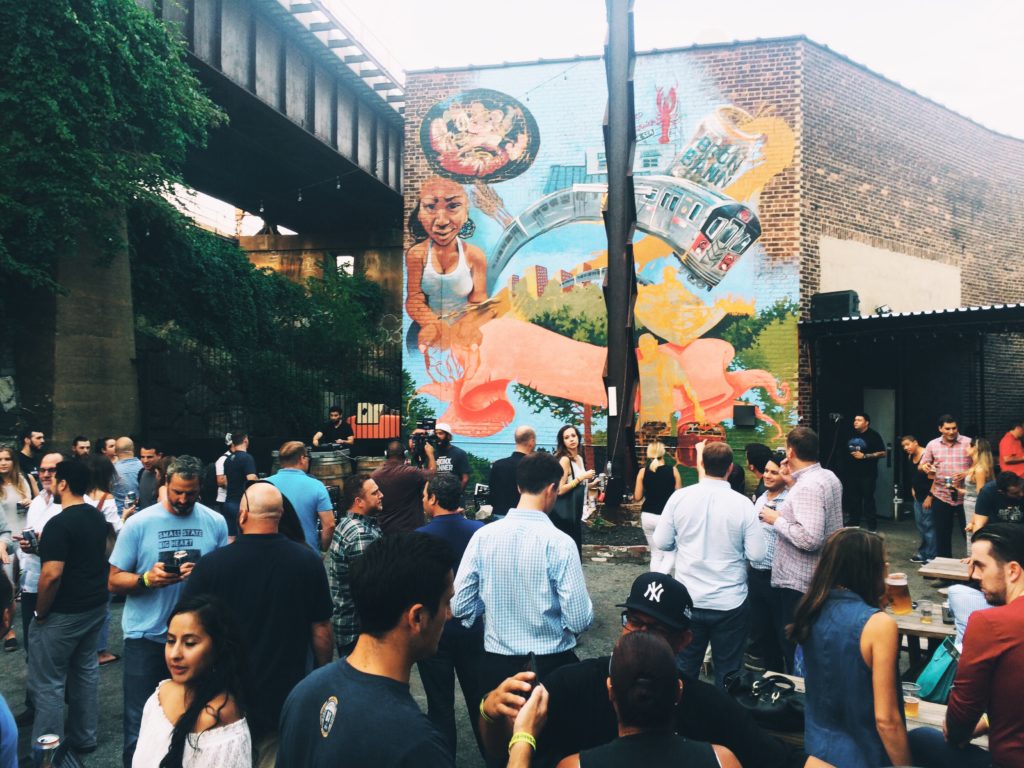 Have you visited any other Bronx neighborhoods?
Yea, we sell beer all over the place so we spend a lot of time up at Yankee Stadium, Throggs Neck, Tremont, Woodlawn, one of our founder's family is in Riverdale, so we're up there all the time. We serve all over the place. We had a warehouse space closer to the 3rd Avenue bridge, so we know all the restaurants and bar owners over there by the old Bruckner Bar and Grill.

Ok, so if i wanted to buy some Bronx Banner right now, where should I go?
So our first account was a Bronx Ale House, so I would recommend that place. There is a number of places in the neighborhood. Charlie's Bar and Grill, Mott Haven Bar and Grill, and Ceetay serves our beer.
All good names right there. Any parting words?

I would like people to know that part of the inspiration for creating this place and part of the inspiration for coming to work everyday is for people coming in and learn about what we do and appreciate it and enjoy it and share it with them. We would like as many people as possible to come here and see what we do.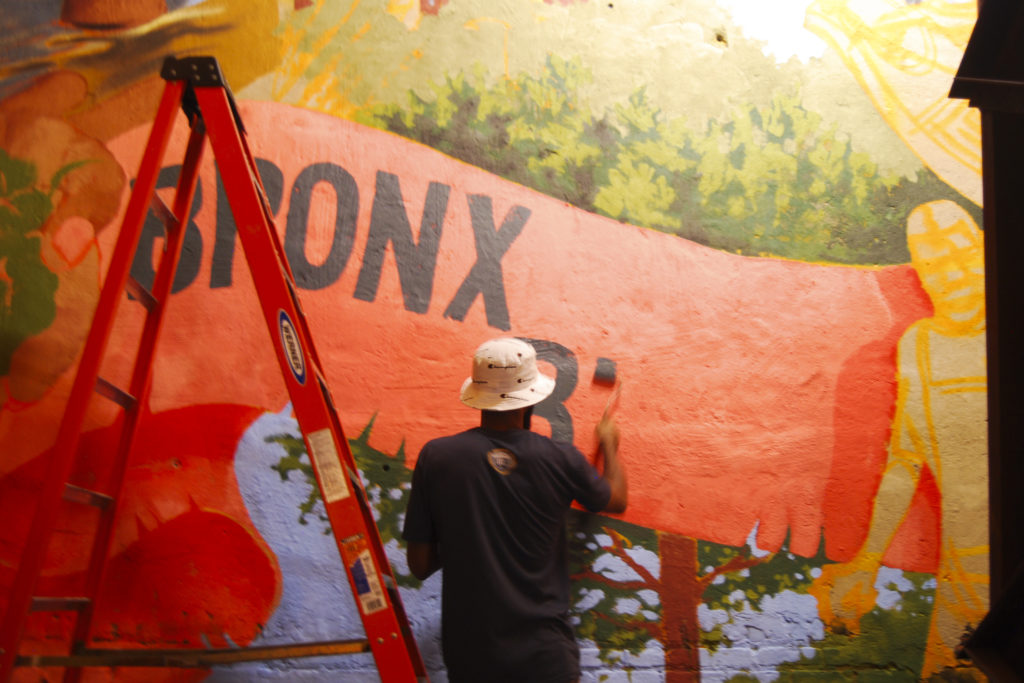 Enjoying the Bronx, that's what its all about. Thank you so much man for meeting me right now. Its much appreciated.
–
The Bronx Brewery tasting room is open 7 days a week to the public. During the week at 3pm, during the weekends at noon and they are open until the last person leaves. On the weekends, they open the back yard when the weather is nice. Bronx Brewery has food trucks, live music, and tours as well. Check them out at The Bronx Brewery.
Photos by the Bronx Narratives.
Check out the profile they did on me!
–
Stay Dandy.


-Diego
Comment below and let me know your thoughts.
Subscribe for giveaways and outfit inspiration.