With the holidays coming up in full swing, it's time to start thinking about not only holiday meals and desserts, but also holiday cocktails. Whether it's a gathering of family and friends or a night in during a blizzard, a festive adult beverage is the perfect way to warm up and get in the holiday spirit. Here's how copper makes a better drink. 
5 WAYS COPPER MAKES A BETTER DRINK
Vodka is a staple of countless alcoholic beverages, and one particular brand, Absolut, has come to the forefront of the scene with their new vodka, Absolut Elyx. Made and served with the enhancing properties of copper, everything about this product oozes luxury and sleek style. Without further ado, here are five ways copper, and Absolut Elyx, makes a better drink!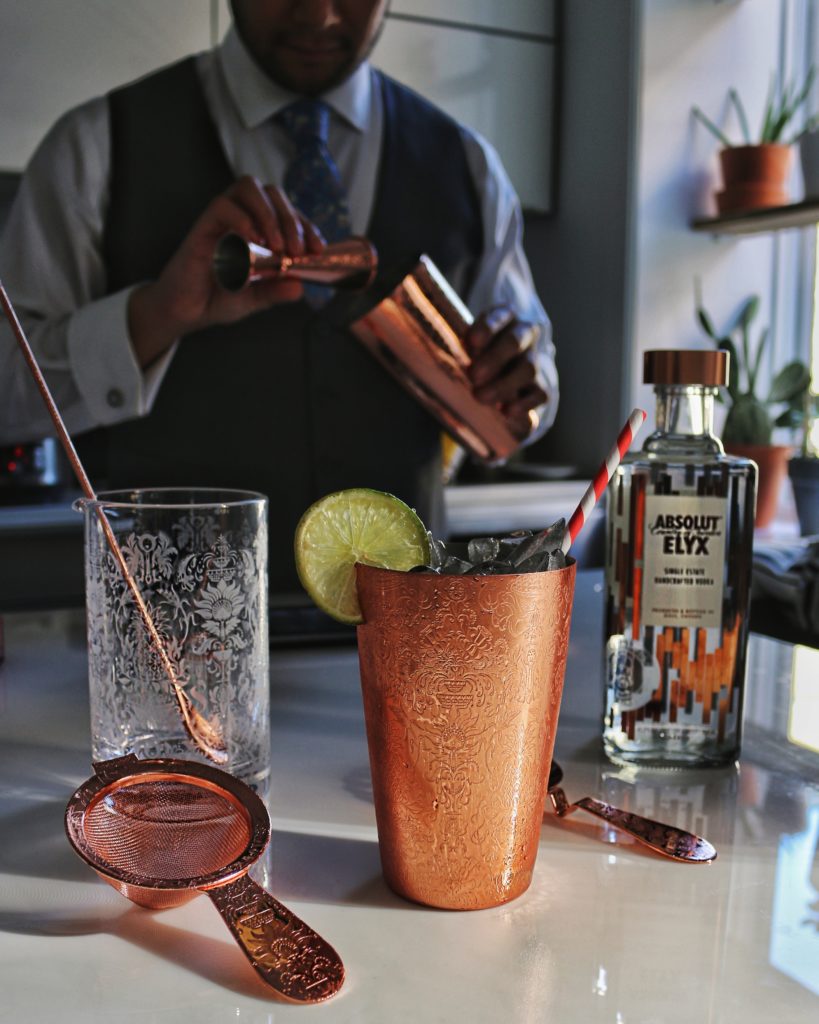 Comfort and luxury
The food and drinks we consume around the holidays are filled with the sensation of comfort and luxury. Absolut Elyx integrates luxury directly into its product by creating it in a 1921 vintage copper still. In a process called copper catalyzation, they give the liquid maximum contact with the copper. The result is a vodka with a smooth finish and a silky mouthfeel. Pair it with a copper stemware cup or cocktail shaker from the Elyx Boutique, and you'll have the foundation for a gathering filled with holiday cheer.
Setting aside the effects on the vodka itself, copper has been considered integral to the presentation of alcohol since the 1940's. This is when the moscow mule came about. The drink is a mixture of vodka, lime juice, and ginger beer, and has been traditionally served in a copper mug since its inception. Copper drinkware gives any drink a gleaming, sleek presentation. Since the color of copper is commonly associated with glitzy and stylish holiday celebrations, presenting any beverage in a copper cup is sure to be a hit.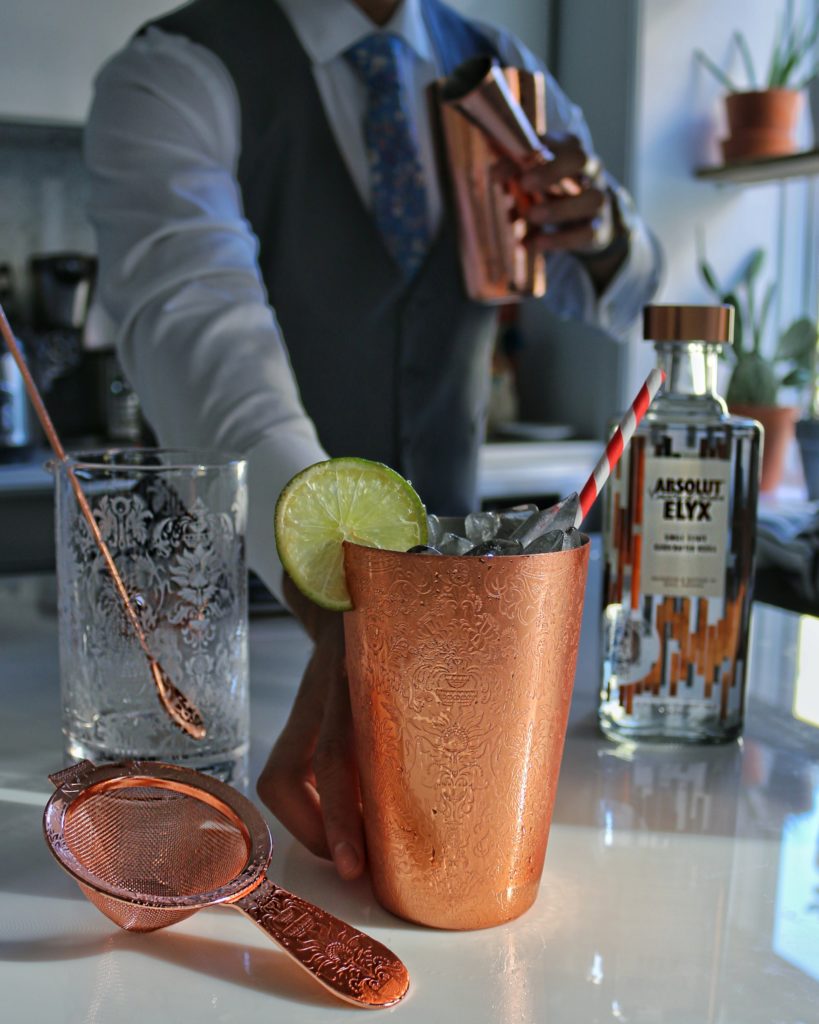 Taste-enhancing properties
The influence of copper continues to affect the vodka not only through its creation, but through the consumption of the drink as well. I previously mentioned that the moscow mule is traditionally served in a copper mug; this brings far more to the table than just presentation. The copper increases the fizzyness of the ginger beer, enhances the aroma and taste of the vodka and lime juice, and neutralizes the acidity of the drink. Copper drinkware is also thermally conductive, meaning it immediately takes on the temperature of whatever liquid you put in it. Not only will it take on the chill of your beverage and thus keep it cold, it will also protect your drink from the warmth of its surroundings and your body heat.
Traceable roots and production
Much like the way that many families gather in one home for their holiday celebrations, Absolut Elyx is a self-professed "single estate vodka." This means that the vodka, in its entirety, is created in a very small area. From the planting of the wheat, to harvest, to production of the vodka in the copper mill, everything involved in Elyx occurs within a 15-mile radius. On top of that, only a select and knowledgable few people are capable of operating the copper still used to make the product. This helps to ensure that you know exactly where your drink is coming from and how it's made, which is a perfect parallel to the way people come back to their roots and reminisce on fond memories with friends and family during the holiday season. With this in mind, bringing Absolut Elyx into your celebration will undoubtedly bring a sense of closeness and familiarity.

Versatile and universally beneficial
You didn't think that these copper cups and bar tools would only be useful during the holidays and parties, did you? Copper can enhance the flavor of any beverage made with ginger beer, lime, mint, and several other ingredients. With its thermal conductivity, it will also be useful during the hot and humid days of summer; imagine sitting on your porch on a July afternoon with a mojito or a margarita in your copper stemware. Your drink will stay cold and look gorgeous as the sunlight reflects off the copper. Any product from the Elyx boutique is sure to give you bang for your buck, any time of year!
Giving back to the world
And finally, you can continue the holiday spirit by just buying a bottle of Elyx; Absolut has a partnership with Water for People, which means for every bottle of Elyx sold in the United States, Absolut donates a week's worth of safe drinking water to people who desperately need it. If giving essential and lifesaving supplies to those in need doesn't put you in the holiday spirit, I don't know what will!
So this holiday season, or any time of year, treat yourself to some much-needed luxury and relaxation by picking up a bottle of Absolut Elyx. Whether it's for a large gathering or yourself to enjoy, it's sure to be a big hit. You can also stop by the Elyx Boutique for some stylish, flavor-enhancing, and beautifully engraved copper stemware, drink mixers, and other bar tools that will make a great gift for any cocktail fan!
–
Thanks for reading, y'all stay dandy.  😎 Don't forget to follow me on Instagram!
-Diego
(Some of these links contain affiliate links, so that means if you click and buy something, I get a cut. It helps keep the site going! Full Disclosure)